Who We Are
AIM is a manufacturer of acoustical and thermal insulation constructed from polypropylene, and serves a broad range of industries. Considered a pioneer in the insulation industry, AIM products have found their way into many consumer applications that include transportation, appliance, home insulation and several others. AIM products have been used in 3 continents and over 10 countries. AIM, is continually improving and designing new product applications through ongoing R&D and customer feedback. We are committed to customers, comfort, cost savings and climate.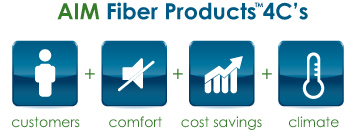 Customers: AIM products are used by many large OEM's, and are designed to meet both performance and cost targets. A significant benefit of AIM products over most other products is the ability to "fine tune" product offerings to meet the design specifications of our clients. The company uses much of the feedback from the design engineers to fuel innovation in new applications and offerings.
Comfort: AIM insulation is used as an acoustical insulation to make cars quieter and to make kitchens, homes and offices enjoy better sound quality. AIM products can be found in the interior of automobiles, like door panels, headliners and instrument panels and in appliances like dishwashers to keep the noise levels at a minimum when the appliance is operating. The same sound attributes are available in both the home and office – behind the walls, suppressing the noise of HVAC systems or to simply make it easier to hear.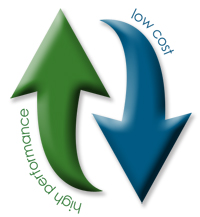 Cost Savings: The thermal qualities of AIM insulation make energy savings possible. Although much of the focus of AIM insulation is toward sound absorption applications, the thermal element of the product can benefit consumers equally as well. And, cost savings are not confined to energy savings. AIM's manufacturing process and the ability to "fine tune" products for specific targets, make the insulation a "top pick" for its price/performance ratio resulting in a cost saving for everyone. In fact, its minimized weight contributes to better gas mileage when used in the interior of automobiles.
Climate: Climate refers to the environment…and that's another strong suit of AIM. All AIM fiber is fully recyclable. In fact, all scrap produced in the manufacturing process is reused; nothing is wasted or left for a landfill. AIM's insulation is clean for the environment, safe in the home, and is referred to by many as the "no-itch insulation."
Two of AIM's core products are AutoZorb and PolyZorb. Although both have the same elements that have made this insulation well known by major OEM's, Tier One's and Fabricators throughout the world, AutoZorb is typically used in the transportation markets and PolyZorb in all other markets. AIM, has been manufacturing these products since 2003 and sold into many large programs that include GM, Ford, Toyota, Nissan, European Car Companies, Electrolux, Maytag, Whirlpool and many others. AIM is ISO-9001 certified, UL approved and meets the stringent requirements of automotive and appliance manufacturers. AIM is committed to making people's lives more comfortable at an affordable cost, while staying fully committed to maintaining a clean environment.